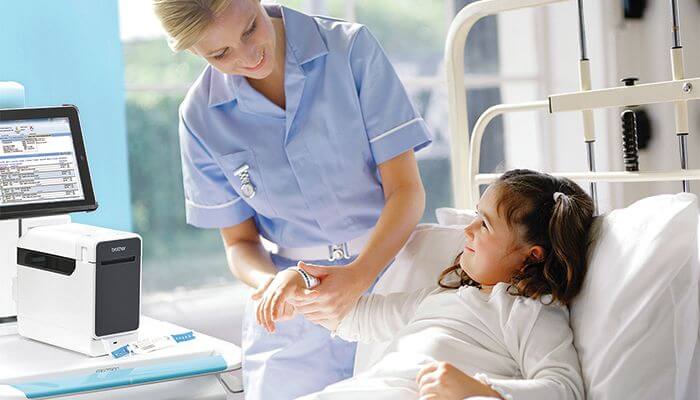 For years, major healthcare and patient safety organizations in both the public and private sectors have discussed how patient identification errors have led to medical emergencies and patient harm in hospitals around the globe. This situation has been mitigated to some degree by the use of barcode print and scan technology.
In this Q&A, David Crist, president of Brother Mobile Solutions, explains how today's newer and more innovative mobile technology can empower physicians, nurses and technicians to improve patient identification procedures to reduce errors and improve the quality of patient care. Anton Ansalmar, founder and CEO of Rapid Healthcare describes how one application of advanced mobile technology at the actual point of care has successfully identified and prevented potential breast milk misfeed incidents in a U.S. hospital's busy neonatal intensive care unit (NICU).
First, how do today's mobile patient ID and verification solutions serve to reduce risk and enhance patient safety and regulatory compliance risk in hospitals and other clinical healthcare environments?
Crist: While most hospitals use barcode scanning and wristband printing systems for incoming patients, many are not leveraging mobile technology to its fullest potential. Today's next-generation patient identification and authentication solutions use on-demand wristband and label printers help to ensure optimal accuracy and patient safety at all points of care. These wireless mobile systems enable caregivers to administer care whenever and wherever it is needed throughout the facility.
For example, nurses can take samples, infuse blood or administer medications and, at the same time, print out or verify the patient wristband and print a matching label for the samples, blood and medication bags. The matching wristband and labels contain legible human- and machine-readable data (barcode plus text). Following these patient identification validation and authentication procedures at the actual point of care—whether in the ER, operating suite, or at the bedside—not only saves time and improves efficiency, but also significantly reduces the risk of misidentification and human error. It also helps ensure the hospital's compliance with EHR regulations and the five rights of patients: the right patient, right drug, right dose, right route, and right time.

What are some of the problems created by patient misidentification, and how pervasive are they in today's healthcare system in which virtually every hospital and ambulatory care center uses patient ID wristbands upon admission?
Crist: Even though patient ID wristbands are pretty much universal, at least in the U.S. and other medically advanced nations, incidents of misidentification are still more common than you'd think. For example, a 2016 article in Beckers Hospital Review cites an ECRI Institute report which states: "Failing to associate the right patient with the appropriate action, referred to as wrong-patient errors, is a prevalent occurrence with potentially fatal consequences." The article notes that ECRI examined more than 7,600 wrong-patient events occurring from January 2013 to July 2015 and found that about nine percent of these had led to temporary or permanent harm or even death.
The study notes that more than half of the wrong-patient events involved either diagnostic procedures or medical treatments. Had these healthcare providers employed mobile patient ID and authentication procedures at the actual point of care, perhaps most of these wrong-patient incidents could have been avoided.
Ansalmar: Misidentification problems are global in scope as we learned in conducting market research for our Mother's Milk mobile application for patient identification and authentication. We found numerous international reports of errors related to the misfeeding of bottled breast milk to premature and at-risk newborn infants. For example, in several Australian hospitals where the wrong bottle was given, the error was quickly discovered, but the infant's stomach had to be pumped to prevent a potentially adverse reaction.These kinds of incidents clearly show why patient identification and verification is so important. It is especially critical for premature infants and full-term babies born with conditions requiring intensive care, because their delicate systems can be harmed or compromised by being fed the wrong bottle of expressed mother's breast milk.
What is the Mother's Milk mobile application and why was it developed? Is the app being used by any hospital here in the U.S.?
Ansalmar: Recognizing the increased use of mobile devices such as smartphones and tablets in clinical environment, we set out to create a new ID and verification application designed expressly for clinical use on mobile platforms. The first app, called Mother's Milk, was designed to meet patient safety requirements by preventing breast milk misfeeds to infants in a hospital setting. The app was developed on-site in a large U.S. hospital's Neonatal ICU (NICU), which has 55 beds and a staff of 160 nurses.While accurate patient and bottle identification has always been paramount to the nursing staff here, the volume of milk being stored in NICU refrigerators for mothers who are oftentimes no longer at the hospital was increasing. This growth created increased interest in implementing an advanced, yet easy to use, patient identification and verification solution which would ensure at the point of care that every breast milk bottle feeding given to one of their premature or ill infant patients is the right match.
Can you provide a brief description of how nurses use the Mother's Milk application? How are NICU nurses and other caregivers using it and how did the solution add value?
Ansalmar: The Mother's Milk application encompasses both the preparation and administration of each mothers' breast milk for infants in the NICU. After secure login verification on a smartphone, the nurse scans the baby's wristband, prints matching labels and fills bottles with the mother's milk. Before administering a scheduled bottle feeding, the nurse scans both labels to verify that the right bottle is about to be fed to the right baby.
The entire process is integrated into the hospital's existing EMR system, so every step is recorded for future viewing and reporting. In addition to the software, easy-to-use, on-demand mobile printers, which are used to print clear, legible patient wristbands and labels are essential to the accuracy and efficiency of the system. We selected and certified Brother TrustSense wristband and label printers and also their RuggedJet 3 handheld mobile label printers for use in our application.
The value delivered was soon clear. After implementing Mother's Milk, the hospital reported that more than 70,000 correct verifications had been made and over 480 potential misfeeds prevented. If these results could be replicated across hospitals globally, many thousands of at-risk babies could be protected from misidentification errors.
Are there any other clinical areas in hospitals which this type of mobile ID and verification solution would be helpful?
Crist: Absolutely. The same kind of advanced mobile technology solution for point-of-care patient ID and verification can also be tailored to prevent the risk of errors and mismatches in a number of areas—for example, administering blood, medications and nutrition to patients, or ensuring that results from biopsy samples taken in the surgical suite for analysis in the lab are delivered back to the right suite and the right patient.
Moreover, advanced mobile software apps can easily be integrated into a hospital's EHR system to provide data capture, analysis and reporting for clinicians, hospital administrators and other authorized professionals. Keeping complete and accurate electronic records of patient care processes and procedures not only increases patient safety, but also reduces risk and ensures compliance with existing standards of care.
Healthcare organizations interested in sourcing technology-based software solutions for mobile deployment should research and consult with mobile software and hardware providers with expertise and experience in the healthcare market.