The new full-page PocketJet 8 is feature-packed, fast, and ready when you are.
Safety
Printing and labeling solutions for safety
Create, print, and apply labels for guidelines, regulations, codes, and other safety signage right when you need them.
Support the safety of your workplace and workers
Across a wide range of industries and applications, safety labels and signs are essential for helping organizations run optimally, stay compliant, and most importantly, keep employees safe. Discover purpose-built solutions that give you top-quality safety signage – without hassles or delays.
Compliance
Avoid workplace hazards and potential fines with easy solutions to create compliant OSHA, ANSI, NEC, and other safety labels and signs exactly when you need them.
Durability
Have confidence that your safety signage will last for the long haul with durable labels that can hold up to tough environmental conditions.
Ease of use
Design and print practically any safety label or sign with user-friendly printers and intuitive software options – no complex training or signage expertise needed.
Customer support
Experience the peace of mind that comes from dedicated technical support – "at your side" for the full life of your product.
Find your safety printing or labeling solution
On-demand safety labeling solutions
Get the software, supplies, and printer you need to design and print compliance-supporting safety labels and signs. All on demand.
Pipe markers
Secondary GHS labeling
Arc flash labels
OSHA signs
5S signage
Barcodes
Lockout Tagout
General safety
Facility labels
See how to create compliant labels in clicks
Learn why these comprehensive solutions take the headache and lead time out of supporting safety and compliance on your jobsite.
Watch the video
Other ways to create safety labels and signs
Explore more printing and labeling products from Brother that can help you meet certain safety standards and applications.
P-touch 900 models
Print higher resolution labels up to 36mm with up to 360x720dpi and print speeds as high as 3.1 inches per second. Even design custom labels like QR codes and barcodes using P-touch Editor software.
Lockout Tagout
OSHA labels
Warning label
Hazardous material labels
Facility labels
Barcode labels
P-touch EDGE 800W model
Easily create high-quality laminated labels up to 36mm (including barcodes and QR codes) with the detachable full Qwerty keyboard and included P-touch Editor design software. Use Wi-Fi® connectivity to print from cloud-based databases or apps, or print from your PC with a standard USB connection.
Lockout Tagout
OSHA labels
Warning labels
Hazardous material labels
Facility labels
Barcode labels
COVID-19 and post-pandemic label templates
Choose from a selection of free safety label templates to ensure proper cleaning, sanitation, and overall safety in your workplace. Compatible with P-touch 900 series and P-touch EDGE 800W printers using 36mm (1.5-inch) tape.
Warning & caution labels
Social distancing signage
Handwashing signage
Tool cleaning signage
Equipment sanitizing signage
On-demand Photo ID Labeling: The Key to a Safe, Successful Lockout Tagout Program
See why forward-thinking businesses use P-touch 900 and PT-E800W label printers from Brother to streamline Lockout Tagout procedures, boost productivity, reduce OSHA violations, and save money.
Sign up to read
Smart solutions for your needs
Implement easily, update seamlessly, and print freely with innovative software and apps.
See our software solutions
Safety insights
Press Release
Brother Mobile Solutions Honored with 2022 "Product of the Year" Platinum Award from Electrical Construction and Maintenance Magazine (EC&M)
..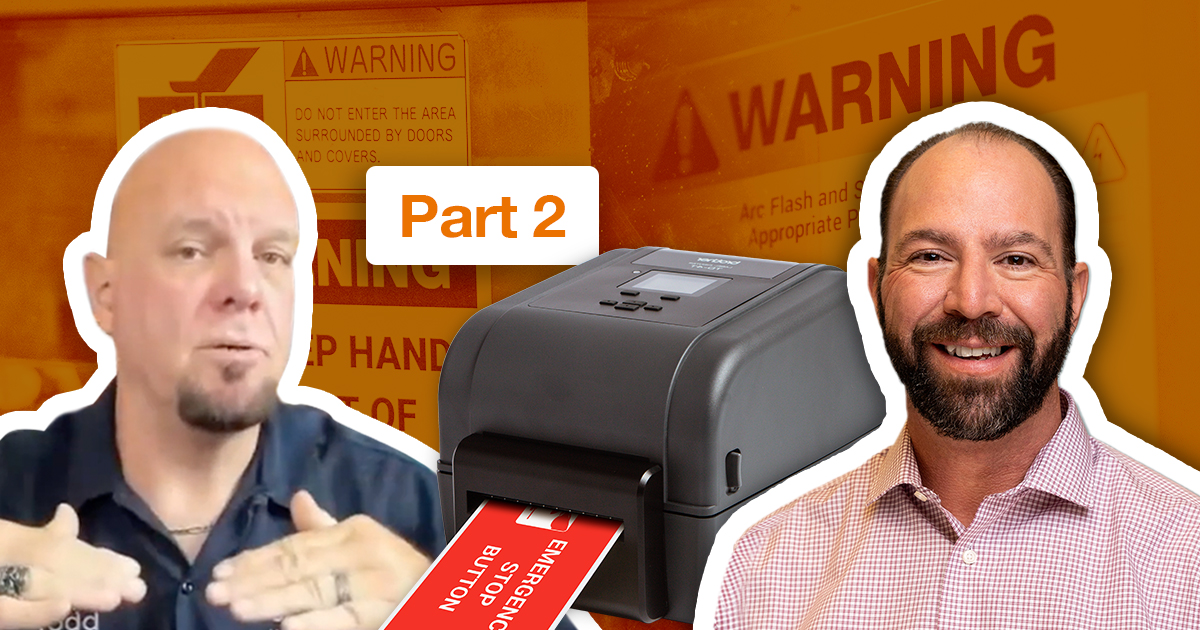 Webcast
Safety Labeling Series: Part 2
..
Webcast
Safety Labeling Series: Part 1
..