The new full-page PocketJet 8 is feature-packed, fast, and ready when you are.
TITAN SERIES
Brother Titan Industrial
Printer Series
Print ultra-fast. Again.
And again. And again.
Round-the-clock printing at riveting speeds. Refreshingly easy drop-in integrations. And all the printers and accessories you need with super-affordable pricing and subscription options. All backed by unmatched support that's "at your side" for life1. Meet the industrial barcode printers that will push the boundaries of what you can accomplish.
600DPI
Printing quality up to 600dpi
14IPS
Printing speed up to max 14ips
656YDS
Get up to 656 yards of ribbon
Top quality at top speeds
Print clear, scannable barcodes at up to 14ips2,3. Stay printing longer with a high-capacity 600m ribbon. Even scale up to 600dpi2 for visibly sharp resolutions.
Seamless integration & connectivity
Experience easy integration designed to drop in, license-free programming, plus standard Ethernet/LAN, USB 2.0, host USB, or RS232C Serial connectivity. Or go wireless with a dual Wi-Fi® and Bluetooth® technology option3.
Lifetime support
Get a standard 2-year limited warranty on the printer and the printhead3, responsive, lifetime customer support1, plus replacement printheads at up to 56% off the list price while your machine is under warranty5.
Extreme ease of use
Choose from a range of LCD and touch panel displays to make set-up and selections a breeze. Get WMS and ERP compatibility. Even select models with built-in full roll rewinders.
Which model is right for you?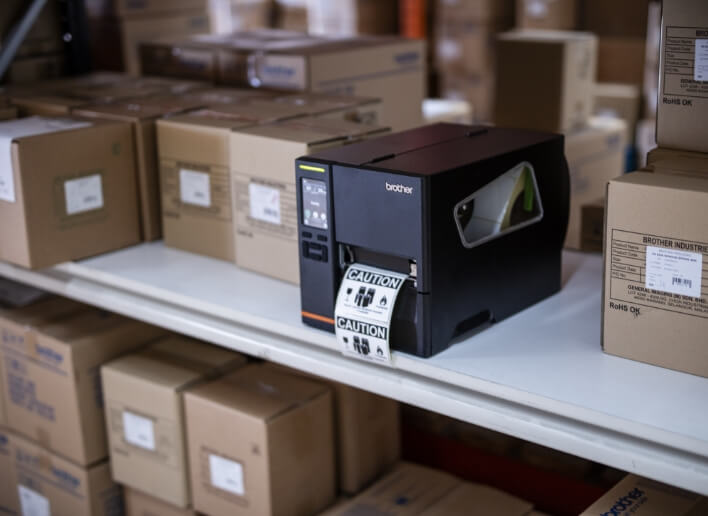 Titan 4021TN and Titan 4121TN
Choose from two models that print high volumes of labels with a simple Ethernet/LAN connection. Let multiple users print easily around the clock.
Print speeds up to 10ips2
Ethernet/LAN connectivity to share between multiple users and manage remotely
Up to 450m ribbon capacity
Intuitive 3.5-inch, full-color HVGA touch panel display
Titan 4420TN, Titan 4520TN, and Titan 4620TN
These models make setup and printing easy with an intuitive LCD display. Plus, gain greater efficiency with a liner rewinder and label peeler.
Print speeds up to 14ips2
Ethernet/LAN, USB 2.0, Host-USB, and RS232C Serial connectivity
Up to 600m ribbon capacity
Bright multicolor status light and LCD display to make selections on the fly
Titan 4422TN and Titan 4522TN
These models feature an LCD display and an internal rewinder, letting you produce neat rolls of printed labels to use when you need them.
Print speeds up to 14ips2
Ethernet/LAN, USB 2.0, Host-USB, and RS232C Serial connectivity
Up to 600m ribbon capacity
Built-in automatic label rewinder
Available Brother Titan Industrial Printer models
Exact features & specs may vary by model
Smart solutions for your needs
Implement easily, update seamlessly, and print freely with innovative software and apps.
See our software solutions
Brother Titan Industrial Printer insights
White Paper
Move Inventory. Boost Sales. Keep Shoppers Coming Back.
..
White Paper
The Rising Importance of Labeling Technology
..
Press Release
Brother Partners with TEKLYNX to Bring Enhanced Barcode Label Design Capabilities to Commercial and Industrial Print Portfolio
..