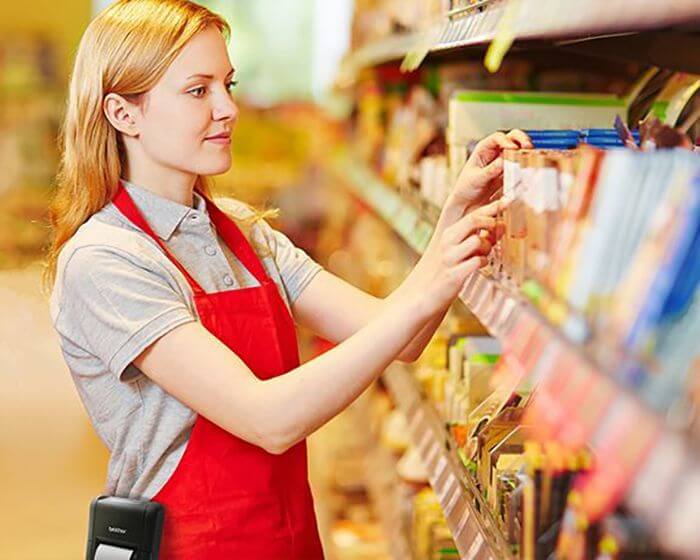 Brother mobile printers help Petrosoft customers produce fast, on-demand shelf edge and item price labels for store merchandise
Brother Mobile Solutions has forged a partnership with Petrosoft, a leading provider of cloud-based solutions for the retail industry. Petrosoft identified Brother RuggedJet 3" mobile printers for use with its in-store on demand label printing applications.
Sergei Gorloff, President and CEO of Petrosoft states: "We partnered with Brother to provide a price and shelf-edge printing solution that would enable our customers to be more efficient and productive in their stores. We like the RuggedJet series wireless mobile printer because it works well with our platform, is durable, reliable, and simple for store associates to operate. We promise our customers mobile solutions that optimize the item labeling process, reduce operating costs, and enhance the overall customer experience ‒ and the RuggedJet will help us deliver on that promise."
Mike Lowey, retail industry specialist for Brother Mobile Solutions, notes: "We're pleased to partner with Petrosoft and to have our RuggedJet printers available for use with their renowned cloud based retail solutions. The retail industry is changing at a rapid pace, and mobility is playing a key role as new business models emerge. Combining the strengths of Brother and Petrosoft creates a very compelling print solution for Petrosoft customers."
Brother RuggedJet printers are tough, road-tested products that allow retailers to print clear, legible thermal receipts, labels and tags. RuggedJet printers are user friendly, low maintenance and come backed by one of the industry's best standard warranties. These printers are engineered to handle the rigors of retail's day in and day out operation, with IP54 certification to withstand dust and moisture, and up to 6 ft. drop protection.
About Petrosoft
Founded in 2002, Petrosoft is a leader in cloud-based retail solutions with innovative tools, services and training that enable retail operators and managers to track sales and profits from any internet-connected device. The company provides a seamless interface from the point of sale to retail back-office systems and popular financial tools. The solutions offered by Petrosoft can increase retail store automation, productivity and margins. Petrosoft maintains its headquarters in Pittsburgh, PA. The company also maintains a global network of technical development and support resources, dedicated to continually improving Petrosoft products and services. Find out more at http://www.petrosoftinc.com.