Q&A: Elevated Voting Security with the Hart Intercivic Verity Duo
by Brother Mobile Solutions | September 23, 2019
1. What is driving the need for stronger voter security and traceability?
Across the United States, voting security remains a big concern for citizens and government officials. In 2018, the U.S. Election Assistance Commission reported that there are yet un-used federal funds available for election system upgrades. The funds are available as part of a 2018 Federal bill, which was passed after former Homeland Security secretary Kirstjen Nielsen warned it is a "national security concern" that US elections can't be audited without paper ballots.¹ Security experts have in recent years called for major elections to have a physical paper trail so a trustworthy audit can be performed. ¹
Jim Canter, Hart InterCivic's Vice President of Engineering & Product Management, said, "We are seeing continued demand for technical innovation that makes voting more straightforward and equitable so that managing elections is more transparent. In state and local municipalities nationwide there is a new level of vigor and dedication to ensuring the sanctity of the vote. Today there are modern, secure and versatile new voting systems available that enable a move beyond older and less secure technologies."
2. Why is now an important time for state and local governments to consider updating their voting technology?
The voting process is undergoing a necessary transformation. Local governments want new solutions that offer ease of voting, along with a paper trail and records needed for evidence in the event of an audit. With voting security high on the radar – it's imperative for systems to ensure that every ballot cast equals one ballot counted. Spurred by continued concern about protecting the accuracy of elections, public agencies need new innovative software solutions that can be paired with mobile printers to help elevate security and reduce fraud through a printed paper vote record.  
3. How can a paper trail help?
To help provide that paper trail Hart InterCivic's Verity Voting System offers a fully integrated and flexible platform for all voting types – paper, electronic, vote by-mail and others. The system supports every element of election management from data imports, ballot definition, vote capture, vote tabulation, results reporting and post-election audits.
4. What should state and local governments look for in new voting technology?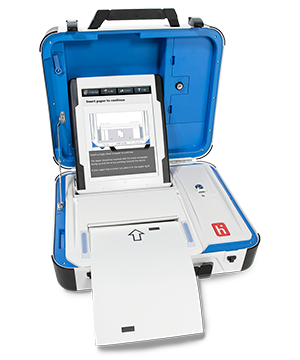 With the increased push for a voting paper trail, mobile printers can play an important role to ensure secure voting.  Greg O'Connell, Vice President of Sales from Brother Mobile Solutions added,  "the Brother's PocketJet 7 series of mobile printers are incorporated directly within the new Verity Duo Hybrid voting systems—a combination that merges the ease of touchscreen voting with the assurance of paper vote records."
5. What are the benefits of Verity Duo Voting systems paired with the Brother PocketJet 7?
Election officials and poll workers benefit from the most up-to-date and user-friendly platform for managing secure and successful elections. Benefits of the system including easy-to-read, anonymous printed vote records as well as an ADA-compliant accessible interfaces. The system is well-suited for early voting and vote centers and greatly reduced pre-election configuration. It offers secure and transparent election management as well as auditable vote records that protect voter identity. Finally, the PocketJet adds value to the system with a small form factor and full-page printing.
Learn more about the Brother and Hart partnership by reading our latest press release, Brother Delivers Integrated Full-Page Ballot Printing in New High-Tech Voting Systems
Hart InterCivic is a full service election solutions innovator, partnering with state and local governments to deliver secure, accurate and reliable elections. Working side by side with election professionals for more than 100 years, we share our customers' dedication to ensuring the sanctity of the vote. Our mission is to help advance democracy one election at a time. This mission fuels our passionate customer focus and our continuous drive for technological innovation that makes voting more straightforward, more equitable and more accessible—and makes managing elections more transparent, more efficient and easier.
Headquartered in the vibrant city of Austin, Texas Hart InterCivic fosters an environment that spurs innovation and empowers employees to deliver great experiences to our customers. For more information about InterCivic and its solutions, visit www.hartintercivic.com
Put one to work
Experience how Brother mobile printers can help boost your company's productivity, efficiency, and bottom line.
Source:
1https://www.eac.gov/assets/1/6/EACannualreport_2018.pdf
All trademarks and registered trademarks referenced herein are the property of their respective companies.