Increased Cleaning Does Not Mean Decreased Label Durability
Time to read 3 minutes
Given the unseen global health care challenges, the process of cleaning and disinfecting has been elevated to a new level of frequency and duration. Top public health organizations have expressed concerns about possible transmission of the COVID-19 via contaminated surfaces and contact with various materials. While scientists continue to understand the virus implications, organizations are diligently working to stop the spread with added cleaning and sanitizing precautions.
Manufacturers across sectors are facing increasing pressures around traceability, and quality control, which has strengthened the critical importance for labeling solutions in the sector. Process manufacturer, specifically of types of goods such as food and beverage or medical devices, also know that labeling is an important aspect of the finished product. Labels can be created for safety information, operational instructions or asset tagging, for added tracking and traceability. Given that these types of devices and equipment are now being cleaned and wiped down more frequently, for added periods of time and likely with amplified cleaning solutions, additional considerations should be given to the types of label tape being applied to this equipment. Even in the past, medical devices especially need labels that are chemical resistant. Your customers need labels that resist wear down, scratch off or fade with cleaning.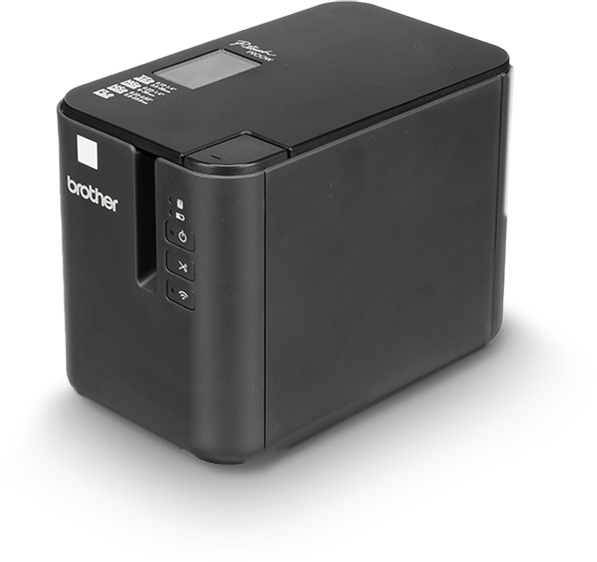 Labeling Tools to Meet Your Needs
Brother's PT-P900 Series Laminated Thermal Transfer Label Printers are small footprint printers and produces premium quality laminated labels at a high resolution of 360dpi, in a variety of sizes and label colors. These printers offer a complete on-demand labeling solution for applications that require reliable labels that work on a variety of surfaces and within many harsh and often dirty environments. The compact PT-P900W printer produces small format, laminated labels up to 36mm (1.4 in) and features an automatic cutter that can trim continuous tape to any length either one at a time or as a strip of pre-cut labels. With the included Brother P-touch Editor Label Design Software, making serialized barcode labels is easy.
High Quality, Long Lasting Durability
Unlike some competitors, Brother labels have laminate applied directly on top of the label during the printing process. This prevents the printing from rubbing off over time, being scratched off or deteriorating from the elements of harsh chemicals environments. For added assurance, UV/chemical/abrasion resistance tape options can also provide further protection. Depending on what your label will be affixed to, various label types are available. For smooth surfaces, standard adhesive will work. But not all surfaces that needed be labeled are smooth. Extra strength labels are designed for rough, textured and powder-coated surfaces. For durable labels applied to materials that are worn and constantly changing shape throughout the day, such as woven nylon material, Brother flexible tapes are an excellent option.
Brother laminated labels are made to be durable, designed to stay in place over time and can withstand the elements, including increased cleaning. For example, after 50 round-trip passes with a one-kilogram-weighted sand eraser, Brother laminated tapes only came up slightly scratched. The tapes can also provide enhanced features such as tamper indication to show when a label has been interfered with.
Brother tapes come in easy-swap drop-in cassettes so you can change label sizes, colors and adhesive types in seconds. They also have a seam that runs down the back of the label allowing the backing to easily separate from the label. This eliminates the need to dig the label up at the corner as well as the challenge of the label not lying down flat on the item.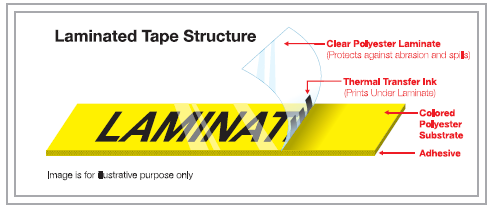 Many food and beverage manufacturers, commercial kitchens, restaurants and health care organizations may now be upgrading their normal cleaning protocols and even substituting cleaning solutions for stronger products such as bleach. Increased cleaning and use of harsh chemicals can cause some labels to break down over time. But this increased cleaning poses no challenge for the Brother genuine laminated labels with the printing on the underside of the label.
If you'd like to learn more about how today's advanced labeling tools can print labels that can stand up to new levels of cleaning, sanitation and disinfecting, visit our laminated tapes page.