Not All Lithium-Ion Batteries Are Created Equal
4 immediate steps to take to help ensure your RuggedJet printer's performance and safety
Not all printer batteries are created equal. If you have purchased a replacement PA-BT-4000Li battery for a Brother RuggedJet mobile label and receipt printer (RJ4040 or RJ4030 series) that is not a Brother Genuine product, you could be putting your product investment at risk.
Only Brother Genuine replacement lithium-ion batteries have been thoroughly tested by Brother to ensure they are safe to use in Brother printers. Although a number of compatible batteries are easily available online, their quality and compatibility with Brother printers have not been design-verified and rigorously tested by Brother, and that can spell serious trouble. Using non-Brother lithium-ion batteries may affect the hardware, performance and machine reliability, causing the machine to produce less than optimal results.
Compatible batteries
To make matters worse, non-genuine batteries can damage products when printers are used in exactly the types of rugged situations Brother Mobile printers are designed for.
It can be challenging to make sure you are using only Brother genuine batteries since compatible lithium-ion batteries look similar and often even share the same product number. Therefore, it is absolutely essential to source your batteries with extreme care to avoid exposing your products to serious risk by inadvertently purchasing a non-genuine battery.
How to identify Brother Genuine batteries
If you have purchased – or intend to purchase – a replacement lithium-ion battery for your Brother Mobile printer, here are four steps you should take immediately to ensure you are using Brother genuine batteries that have been safety tested by Brother:
1. Check to make sure any replacement batteries you plan to order include the Brother logo and part number.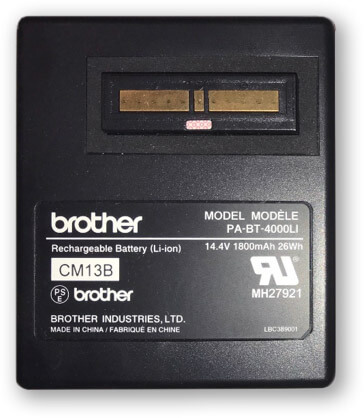 Genuine Brother Battery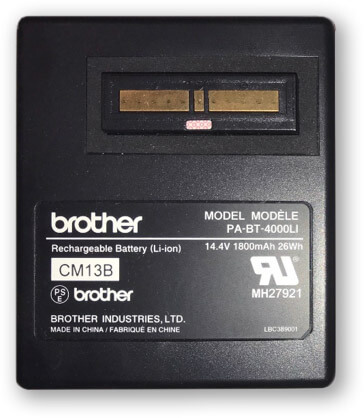 Genuine Brother Battery
2. Check the rating plate to make sure it does not include the name of a company other than Brother, even if the part number is the same.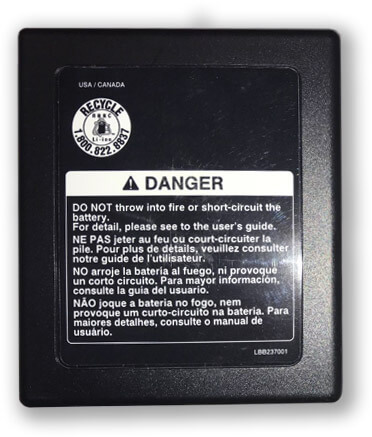 Genuine Brother Battery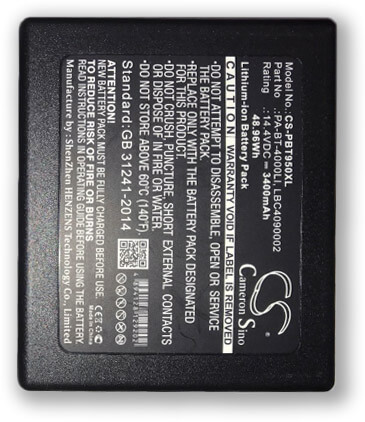 Non-genuine Battery
3. Purchase the lithium-ion battery from a reputable vendor, and make sure you confirm the identifiers above. If you're ordering online, also check the user reviews. Poor reviews could indicate that the battery is not Brother Genuine.
4. Once you receive your new battery, double-check the identifiers to ensure you are using a Brother Genuine Battery.
Safety and product performance are our top priorities. Protect your investment by only using Brother Genuine replacement batteries. If you have questions or concerns about batteries you have previously purchased, or would like information about where to purchase Brother Genuine batteries, contact us today.