Designed for Officer Safety and Efficiency: Patrol PC's New UltraRugged Printer Mount
Time to read 1 minute
Today's law enforcement officers face many unprecedented challenges in their day-to-day responsibilities. Dealing with inefficient and distracting technology shouldn't be one of them.
With less interior space and increasing amounts of equipment, an officer's vehicle must be optimized for both efficiency and officer safety. Enter the UltraRugged Printer Mount system by Patrol PC – purpose-built specifically for law enforcement vehicles to securely mount Brother's PocketJet 8 and RuggedJet 4 mobile printers.
The ingenious design saves space by attaching quickly and easily to your factory vehicle's headrest with no modifications or special tools required. Proudly Made in the USA, the Patrol PC system is custom-designed to fit your specific vehicle's make and model.
The Patrol PC UltraRugged Printer Mount system:
Reduces clutter and loose items in the vehicle, providing a safer environment during emergency situations
Optimizes compact vehicle space
Positions printer for optimal accessibility and minimal distraction
Keeps mission-critical documents within easy reach
Won't interfere with seat belts, airbags, mirrors, cup holders, etc., and allows full access to console space and center-mounted long arms
Meet the printers designed for the line of duty
Quickly and reliably print: Accident reports | Warrants | eCitations | Parking violations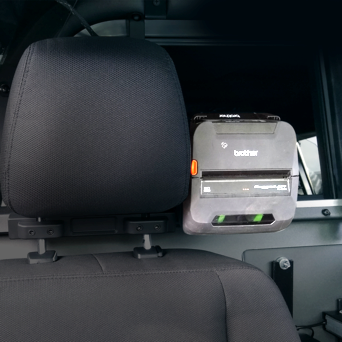 The Brother RuggedJet 4-inch mobile printer is fast, rugged and extremely compact for smaller spaces.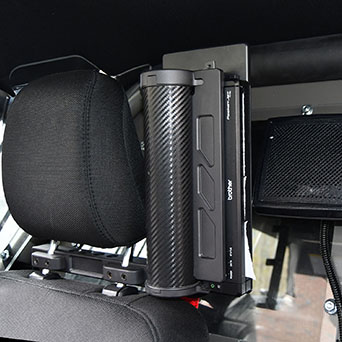 The Brother PocketJet full-page mobile thermal printer is out-of-the-box ready to support full-page printing.
Patrol PC
is a US-based manufacturer of UltraRugged
™
MDTs that are purpose-built exclusively for use in first responder vehicles. Their fixed-mount and portable tablets are designed for continuous use 24/7/365, under intense and dangerous circumstances. With thousands of units deployed in active duty throughout the U.S., our systems are battle tested to maximize first responder performance, safety, ergonomics and ease-of-use.
To learn more about the features and benefits of the Patrol PC UltraRugged Printer Mount system, visit http://patrolpc.com/printermounts/ or contact Patrol PC by calling 508-699-0458 or emailing [email protected].