Footwear and Fashion Retailer Finds the Perfect Label Printing Fit
Time to read 2 minutes
With on-demand QuickDeploy Mobile Labeling Kits from Brother
In today's high-tech world, it seems like almost every business task can be automated. Yet due to time, cost, and implementation complexities, many retailers still rely on manual labeling procedures to produce the necessary markdown labels in the store.
For a high-quality, well-known footwear and fashion retailer with more than 100 stores in the United States and Canada, an antiquated manual markdown approach was causing a series of issues. The markdown labeling process was time-consuming and could only be implemented after the stores closed. The retailer marked down prices weekly on a subset of store SKUs, along with seasonal and holiday markdown promotions. These markdown price files were emailed to the stores, where managers printed the list and store associates handwrote labels for each of the 200+ SKUs on sale. In addition to being highly inefficient, the legibility and accuracy of the handwritten labels were questionable and inconsistent with other in-store signage and merchandising.
While replacing its manual markdown label procedures with in-aisle mobile printing offered impressive advantages, concern about uncertain ROI prevented company management from seriously pursuing mobile print solutions. They believed doing so would require upgrading each store's wireless infrastructure and handhelds, plus involve significant software development and integration work with their POS software provider.
Stepping up with a solution
Thanks to the Brother RJ3150 QuickDeploy Mobile Labeling Kit, a stand-alone labeling solution, the retailer sidestepped all of those issues. This combination printer/scanner kit contained virtually everything needed to revolutionize label printing in each store, including a state-of-the-art mobile thermal printer and the following custom features:
The retailer's 10,000-item SKU file resident in the printer
A barcode scanner connected to the printer's USB port
Free SKU file updates on the printer with Brother's cloud-based Mobile Deploy application
Now, the store systems department posts the weekly markdown file to Mobile Deploy's secure location in the cloud. Mobile Deploy simultaneously sends an email notification to store managers' iPad® devices, alerting them that a new markdown file is available. In less than two minutes, the RJ3150 connects to the iPad via Bluetooth® wireless technology, the email opens, and the printer automatically updates the new markdown file. Store associates then scan the SKU barcode on the box for each of the shoes on sale and print a markdown label which includes the style number, a two-line descriptor, and the original and markdown prices.
Fashion moves forward
The mobile RJ3150 QuickDeploy Mobile Labeling Kit delivered all the anticipated benefits (and more) to the high-fashion retailer, including:
Dramatically reducing the time required to label 200+ SKUs with markdown prices
Reducing overtime labor hours, sometimes even eliminating them entirely
Decreasing or erasing the need for after-hours work on markdown labeling
Legible labels that feature the correct pricing and consistent merchandising standards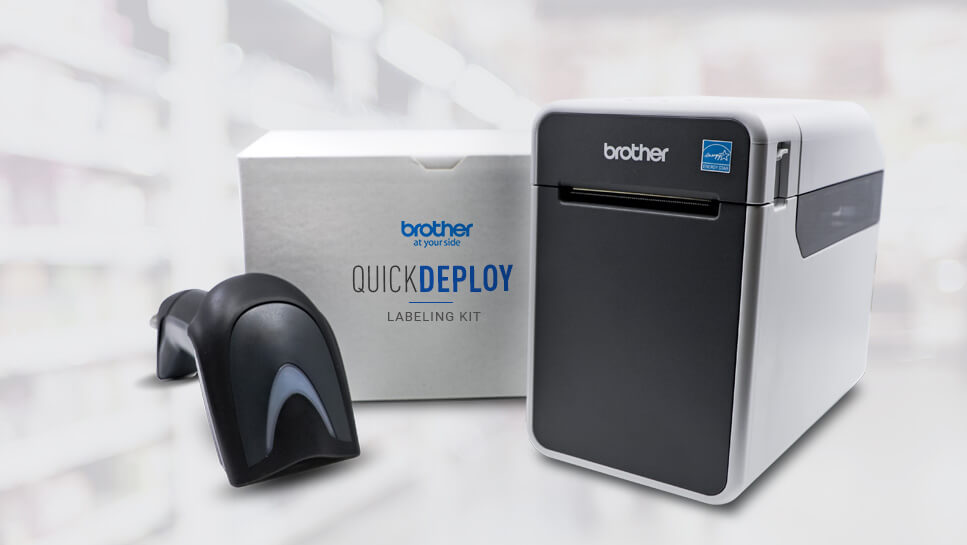 Brother QuickDeploy Mobile Labeling Kits
For the easy approach to on-demand labeling, think inside the box.
With these versatile, stand-alone solutions, retail and convenience stores, food service operations, and warehouses get virtually everything they need to print labels, tags, and barcode labels in as little as 24 hours – all at a fraction of the cost of traditional mobile printing options. Perfect for budget-conscious retailers and rapid prototyping projects, QuickDeploy Mobile Labeling Kits require no integration, no Wi-Fi® connectivity, and no recurring fees.