Discover new feature-packed yet compact 3-inch mobile printers that keep retail work running.
Glazer's delivers by making product deliveries as friendly, fast, and efficient as possible
Get the case study
Cheers to smart, accurate, efficient route operations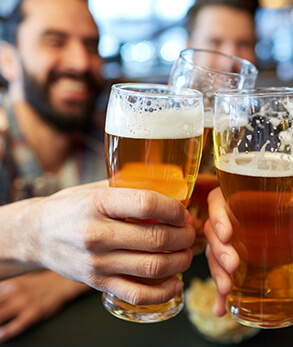 Headquartered in Dallas, Texas, Glazer's Beer & Beverage, LLC is a fast-growing malt beverage distribution firm supporting operations in Texas, Arkansas, Iowa, Kansas, Oklahoma, and Louisiana. Since integrating Brother RuggedJet 4 printers with a leading mobile route accounting software, Glazer's has seen
time savings of 30 minutes to an hour every day
for each of their 300 drivers – which adds up quickly considering the company's 275 daily delivery routes. So, the big question is, how can something as simple as mobile printing have such significant results? Take a look at what RuggedJet printers have to offer.
Game-changing features
Rugged – extreme toughness that stands up to inevitable water, dust, and drops on the road with IP54 certification and 6-foot drop protection
Fast – trimmed transaction time, better efficiency, and increased customer satisfaction with 5ips printing, one-touch pairing, and fast throughput
Easy – seamless integration with route accounting software solutions, simple connectivity options, and intuitive printing from virtually any mobile device
Portable – lightweight and compact, allowing drivers to wear or carry (both in vehicle and out) through a full day of serving customers
Customize to your specific business needs
RuggedJet printers are always rugged, fast, easy, and portable, but customers like Glazer's have also found unique and creative ways of utilizing and customizing their mobile printers to improve route operations and see a bigger impact to their cash flow. That's because Brother works with customers to specially configure printers for their particular business needs – even developing customized, purposeful accessories when necessary.
See the specific ways Glazer's is leveraging RuggedJet mobile printers to their advantage in the fast-paced beverage industry. Read their story today, and get real-life insight into fast, accurate, customer-driven route operations.