Accelerating road to value
At this year's Oil and Gas Supply Chain and Procurement Summit in Houston we were encouraged by thought-provoking discussions on how transportation services companies can thrive in today's new normal.
Our biggest takeaway? In a still-volatile environment where commodity prices have recovered but profit margins remain slim, technology that automates and streamlines processes and boosts bottom line efficiency needs to be front and center.
In terms of accelerating the road to value via technology, Brother Mobile Solutions transportation industry specialist Brian Beans presented some key case study learnings on the advantages of mobile ticketing solutions for midstream fleet operators. A representative from a major midstream organization joined Brian to discuss the external and internal challenges fleet managers face – and shared successes resulting from some simple technology improvements.
The most pressing challenges for midstream transporters
Midstream fleet managers face a host of challenges in today's climate, but those we spoke with said:
They need to quickly capitalize on increased demand for midstream transportation services as exploration and drilling
They need to better comply with U.S. DOT and other government and industry commercial trucking regulations.
They need to enhance, improve or adopt real-time communications and improve over-the-road driver efficiency.
At the conference, Beans discussed real-life scenarios that illustrated how in-cab technologies are helping dramatically improve margins and efficiencies in the midstream delivery process.  He chronicled the pain points and bottlenecks that fleet and operations managers face in assessing and securing approval for automated workflow.
For example, requiring drivers to manually key data into the system is a time-consuming, labor-intensive process, resulting in high error rates.  At one company, slow network speeds and frequent loss of communications meant it could take drivers as long as 24 to 48 hours to get the information necessary to create complete and accurate manifest tickets. Equally challenging, its existing in-cab printers were unwieldy in size, tricky to operate, prone to breakdowns and costly to maintain, limiting the drivers' ability to easily and quickly deliver printed tickets to customers.
Mobile technology drives better performance
Mobile technology is changing the face of the nation's truck transport industry, and midstream fleet operators are no exception. During Beans' presentation, the majority of questions came from a new generation of millennial-aged fleet managers. His case study on real-time, integrated route and delivery solutions with truly mobile printing capabilities illustrated how these simple technologies are improving profitability, productivity, and customer and driver satisfaction.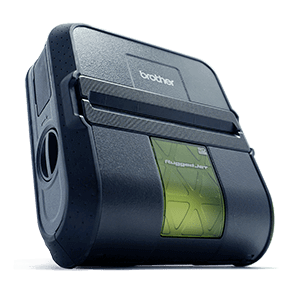 Real-World Case Snapshots
For one major midstream oil company, the mobile technology solution involved equipping close to 1,200 drivers with ruggedized Samsung Android tablets pre-installed with OmniTracs enterprise-wide fleet management software and Brother RuggedJet 4" wireless thermal receipt and label printers in the truck cabs. The company also partnered with Brother developers to design and build a proprietary mobile app that met specific configuration requirements.
Truck drivers were good to go after just five to six hours of training on the new system, and have been pleased how quick, simple and easy it is to print legible, accurate, DOT-compliant delivery tickets on demand – not to mention how easy it is to change out the thermal paper rolls.
Boost efficiency with Brother mobile printing solutions
Brother's advanced mobile printing and labeling technologies deliver the versatility, durability and performance efficiency that oil and gas transportation operators need to thrive. The compact yet rugged devices perform reliably in extreme weather environments and are built to withstand the rigors of over-the-road transport.  Drivers gain the freedom to quickly and easily print anywhere, anytime, speeding their ability to accurately complete customer transactions and get on their way to the next delivery.
Whether you are a long-haul fleet operator, route/delivery distributor, midstream Oil & Gas entity or have a small fleet on the road – Brother mobile printers can drive better results for your fleet. Compact, wireless, truly-mobile printers by Brother connect with virtually any device for anytime and anywhere printing.
Call 800-543-6144 or click here for more info.