3 Practical Strategies to Keep Up with Warehousing Market Growth
Time to read 6 minutes
The ongoing eCommerce boom is putting demands on the warehouse market
Warehouses staring down another year of inflationary pressure, supply change disruptions, and historic labor shortages have much to consider as they map their futures for 2023 and beyond. There's also the ever-growing demands of eCommerce, where the pressure to get warehouse order fulfillment down to a science is high. To meet these demands, many warehousing operations are turning to warehouse technology and omnichannel fulfillment to keep up.
And with the smart warehousing market projected to grow to 25.4 billion by 20261, the timing is right for upgrading your warehouse equipment. But the question isn't whether or not you should make the leap, it's how to make it right now.  
So, how can your warehouse keep pace in 2023?
Fortunately, there are plenty of ways for you to solve today's warehouse challenges without a massive technological overhaul. Growing into the modernized digital space starts with small, sustainable changes. The best way to start is to evaluate how your existing equipment and systems can be optimized or upgraded with simple warehouse technology.
Leverage data to streamline your warehouse operations
Chances are you have a system in place for tracking how inventory is moving (and stalling) in your warehouse. Adopting a cloud-based Warehouse Management System (WMS) that can deliver real-time insights simplifies that process. It can also make it a lot easier for you to:
Optimize your delivery routes.
Identify where and when to reallocate your staff.
Streamline warehouse picking
Outmaneuver the next supply chain disruption.
Create greater visibility across your warehouse.
Achieving this level of clarity also helps prevent information silos that create costly miscommunications between your warehouse floor and business operations.
Cloud-based WMS can also facilitate better forecasting, better customer service, and less stockouts. But the best systems still need reliable industrial printing technology to generate the labels and documents you need to keep things moving. Make sure to select printing solutions that integrate seamlessly, drop in to your existing ecosystem, and offer advanced connectivity options.
Get agile with omnichannel fulfillment
Omnichannel fulfillment presents the best of both worlds when it comes to warehouse order fulfillment: your customers get what they want faster, and your operation gains more flexibility to execute order fulfillment from multiple sources.
This is crucial for outmaneuvering supply chain disruptions, individualizing your customer's experience, and expanding your market reach without compromising your budget.
It's as simple and complicated as that. Online shoppers are notoriously tough customers with extremely high expectations for order fulfillment. A recent CSA study revealed that for 53% of respondents, just one bad experience is enough for them to abandon a brand2.
So with online shopping and rapid shipping as the new norm, you need to equip your warehouse and workers with the right tools to keep up.
Omnichannel fulfillment essentials for competitive warehouses
Deploy warehouse technology that allows for easy integration
If your warehouse doesn't have the financial bandwidth or buy-in to make complex software upgrades, start with smaller, simpler tools. Look for options that drop-in and integrate with your existing legacy systems.
Your material handlers will benefit from mobile tablets, barcode scanners, and rugged printers that automate tedious, error-prone counting processes. For these solutions, choose durable tech that can withstand harsh warehouse conditions and the rigors of working on-the-go.
It's also important to select options with user-friendly hardware and software. Veteran and entry-level material handlers appreciate short learning curves and warehouse technology that lets them hit the ground running.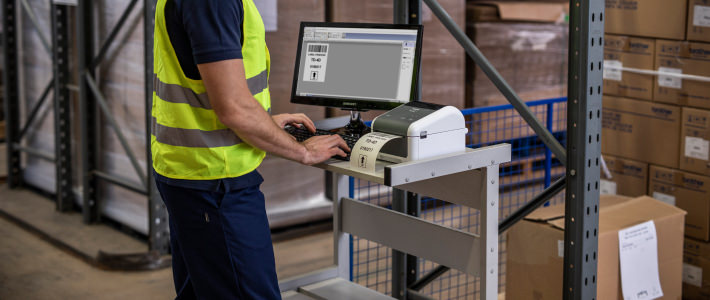 Optimize the warehousing equipment you already rely on
If you're not at a point where you can invest in AMRs or new equipment, forklift mounted printers offer great operational efficiency at a manageable price point. By printing on the go, your associates can immediately mobilize a traditional, fixed workstation. This level of flexibility and efficiency introduces the benefits of warehouse automation without taking the human out of the equation.
It's a simple upgrade that can help you improve warehouse picking, especially if you can't yet afford a hefty investment in robotics.
Use future thinking to tackle warehouse challenges and protect your bottom line
Between COVID-19, global supply chain disruption, and major labor shortages, warehouses have had to contend with a lot of uncertainty. Mapping a path forward shouldn't feel like a gamble. Staying competitive isn't about acquiring the latest warehouse technology. It's about optimizing the tools your business already leverages today. Forklifts, lift trucks — however you get the job done, the key is to find the little wins that make big differences over time.
Interested in seeing what smart, simple mobile technology can do for your warehouse? Let one of our Brother experts take a look at your workflow. They can recommend the best solutions for your needs and budget, and you can test this future-proof tech with a digital demo or by trying a printer, for free.