Market Volatility Demands Efficiency
Time to read 3 minutes
Uncertain Times Call for Oil & Gas Transport that Deliver Visibility and Boost Cash Flow
Midstream logistics and petrochemical transporters in today's oil & gas industry face tough issues on every front. From economic uncertainty related to the pandemic to continued volatility in fuel prices, to complying with strict and ever-evolving regulations and a shortage of drivers – energy transporters must continually be on the look-out for new ways to boost automation and efficiency across operations. Fortunately, adopting easy-to-deploy technologies such as transportation management (TMS) with e-ticketing and mobile printing at the point of service can help improve visibility and optimize operations – with big payoffs in improved customer service and cash flow.
Optimize Routes with Real-Time Invoices
Many midstream providers are finding that with transportation management for e-ticketing, they can easily automate all kinds of processes to streamline operations. From inventorying every tank and truck, to estimating volumes based on past consumption, to optimizing delivery routes for drivers and generating accurate invoices in real-time, TMS paired with mobile printing helps ensure oil and gas deliveries are correct and customers are receiving commodities in the exact amounts and prices they expect. Added benefits include reducing errors, improving safety within operations, and gaining insight into route and invoicing data for better planning and reconciliation.
Look to the Cloud and Seamless Printer Integration
Today's TMS systems often offer cloud-based dispatch and route management, which can be easily paired with mobile printers. Once implemented systems can easily assign orders to drivers or third-party carriers, optimizing driver availability and route planning. Tracking drivers or truck locations is easy and distances and mileage of drivers and trucks can be calculated to improve transportation rates, along with providing certification for driver payroll. In addition, these systems can track purchases and sales by operator, lease, and ticket. Since rates for everything from transport to sales to demurrage are automatically calculated, fees can be instantly calculated to ticketing invoice for immediate billing, which speeds the collection of revenues and boosts cash flow.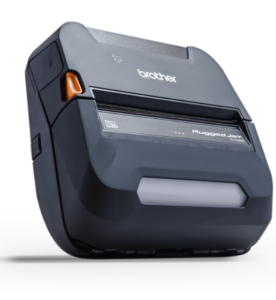 Rugged for the Route with Long Lasting Battery Power
Drivers today are pairing Android™ tablets with compact, powerful Brother RuggedJet mobile printers to print real-time invoices in-cab and leave them with customers at each site. In addition to enabling drivers to print invoices, the solutions intuitively guide drivers through all necessary steps to view and automatically create e-tickets – including custom field tickets and fuel tickets. Drivers can also send and receive data in real-time, and upload and attach documents. The easy-to-use RuggedJet printers are mounted in the cabs in the fleet of trucks, ensuring convenient access. They are durably engineered and constructed to withstand long days on the road under harsh conditions. The printers are hardwired for power – backed by a smart, long-lasting Li-ion battery – and their reliable Bluetooth® connectivity ensures drivers can print any ticket, anytime, anywhere on their route.
Pressing Challenges Demand Solution Value from Day One
In spite of the many challenges impacting the industry today, the relatively simple fix of adopting TMS solution and mobile printing of invoice tickets, midstream oil and gas providers can streamline their operations with a solution that delivers not only value, but also a fast-path to high return on investment with low total cost of ownership.
Brother RuggedJet printers are certified to connect to all of today's on-board computer systems (OBCs), allowing drivers to perform virtually all duties on one device.
Cloud-based TMS platforms
Automatically optimizes drivers, routes and equipment to reduce or eliminate empty miles for top customer service.
Integrated mobile apps
Enable drivers to communicate easily with dispatch to maximize productivity and support the outstanding customer experience.
Rugged and highly connected mobile printers
Enable drivers to seamlessly print accurate, real-time invoices, electronic tickets, and other key documents on-demand in the truck's cab for timely billing and quicker payment, and positive cash flow.
In a still-volatile environment where commodity prices are uncertain, drivers are difficult to find, and compliance continues to escalate and profit margins remain slim, technology that automates mobile ticketing solutions for midstream logistics providers and streamlines processes and boosts bottom line is the best the road to value and long-terms sustainability.
Learn more about how to get started with adopting a TMS solution