Discover new feature-packed yet compact 3-inch mobile printers that keep retail work running.
Smart Fleet Operators Can't Say Enough About Mobile Printing
Time to read 1 minute
Ever since Englander Transportation, specialists in coast-to-coast refrigeration transportation, replaced its manual logging and communications systems with an automated onboard fleet management system, the difference has been like night and day. "The inefficient manual processes drivers had been following were obviously a huge waste of time and money for our company," says owner Carl Bumgarner. Equipping all the company's truck cabs with a laptop, location-based software and Brother PocketJet® full-page thermal printers has automated the way drivers handle trip logs, hours of service tracking and pre-trip checks, improving driver productivity and delivering positive ROI in less than 12 months. At Rolfson Oil, which delivers fuels and drilling fluids 24/7 across the rugged terrain of North Dakota's Bakken Shale region, implementing an in cab mobile system that integrates iPad® mini tablets and Brother RuggedJet wireless printers has been nothing short of transformational, according to Director Jason Burger. "The new automated system supports workflow, enabling more efficient billing and giving drivers greater flexibility to respond quickly to multiple unplanned deliveries," he said. "Drivers and customers love it, and it has helped us level the playing field with larger competitors."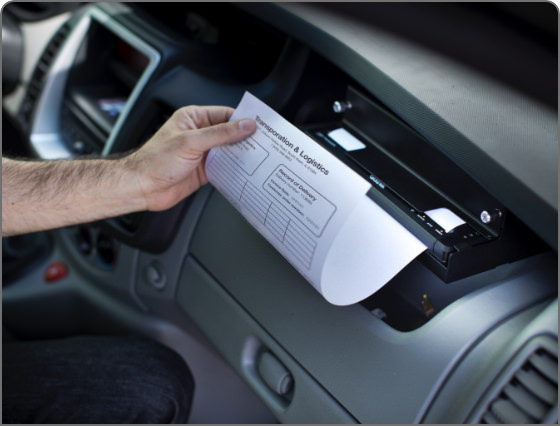 Driver logs
Bills of lading
Hours of Service (HOS)
Delivery documents
Rolfson is especially pleased with the ease of deployment and performance of the Brother mobile printers with built-in AirPrint® technology, which enable drivers to generate 4" wide tickets anywhere, anytime – without the need for downloads. "We selected the RuggedJet because it offered instant compatibility with the iPad® mini tablets and could also stand up to the harsh environment of North Dakota's oil fields, where temperatures can reach 100 degrees in summer and drop to 40 degrees below zero in winter," Burger said.