Fueling Midstream Efficiency with the RuggedJet 4200 Mobile Printer
Time to read 2 minutes
A Q&A with Ravi Panjwani, VP of Marketing and Product Management
For fuel suppliers specializing in just-in-time deliveries to oil and gas sites, easy-to-use, reliable mobile printers are essential for boosting productivity and profits in the competitive transportation industry.
The RuggedJet 4200 Series of mobile printers from Brother features big durability, performance, battery life, and reliability – all in a 30 percent smaller, space-saving design that's ideal for over-the-road operations. RuggedJet 4200 helps today's drivers fuel on-time deliveries, customer satisfaction, ELD compliance, and beefier bottom lines.
Get answers to your top questions about this breakthrough mobile print solution, and find out why the RuggedJet 4200 is a uniquely competitive option for transportation professionals like you.
Pairing the RuggedJet mobile printer with tablets and fleet or route management software delivers fast and positive ROI for oil and gas transportation companies. With the RuggedJet 4200, drivers can easily calculate load and distance to create and print accurate delivery tickets onsite in real time. This flexibility makes it easy to handle unplanned or redirected deliveries, boosting driver productivity and customer satisfaction. The highly efficient technology also enables drivers to quickly print e-logs and other regulatory forms required for compliance – in cab and on the road.
We engineered the RuggedJet 4200 with real input from real route and delivery drivers, and device pairing is easier than ever. NFC capacity and AirPrint® technology allow drivers to print directly from their tablet or smartphone without the need to download or install additional software. Customers tell us their truck drivers are good to go after just a few hours of training on the integrated in-cab mobile systems.
The MFi-certified RuggedJet 4200 printers deliver big on both features and functionality, with major improvements in performance, ruggedness, connectivity, battery power, and accessories. Advancements include more a compact size, faster printing speeds (up to 5ips), industry-leading battery life, industrial-grade buttons, enhanced drop protection, active docking, and superior ticket design capability. The innovative vehicle docking station enables drivers to dock and mount the printer, and provides pass through USB power for printing. Plus, it conveniently charges the battery as well.
Other handy accessories include the battery charger with the status LED and the smart, high-capacity battery that displays battery life status and provides low-battery alerts.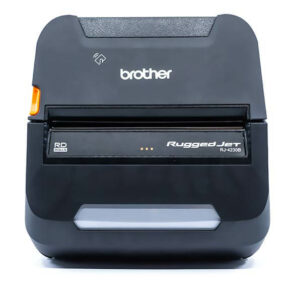 Top Transportation Applications
Use the RuggedJet 4200 to print:
Delivery documents
Permits
Invoices
Shipping labels
Sorting labels
The custom-developed, cloud-based Mobile Deploy device management app is another market first from Brother. It's included free with all models and helps enable simple and easy mobile deployment, integration, and upgrades. In addition to supporting faster, less costly deployment, Mobile Deploy helps deliver improved ROI by allowing a centralized IT or operations rep to remotely manage device updates for one or many operators in the field.
In today's still-volatile market where profit margins remain slim, mobile technology that automates and streamlines processes needs to be front and center. By leveraging integrated fleet management solutions with the smart printing capabilities of the RuggedJet 4200, fleet managers can strengthen their competitive edge by optimizing flexibility, responsiveness, and communication with drivers and customers.