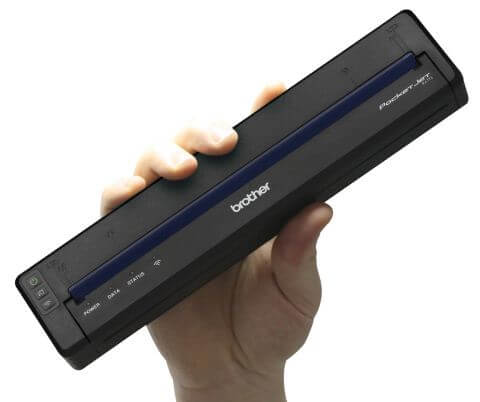 The smallest, most advanced full-page mobile thermal printer on the market now features models with all-inclusive mobile device support, out-of-the-box performance, and Freedom Architecture™ to enable mobile printing for all mobile professionals
Brother Mobile Solutions announces the launch of its PocketJet® 7 mobile printer, a full-page mobile printing solution engineered to offer new levels of freedom to mobile workers spanning virtually any industry – and further enhance the print experience for core Brother mobile customers in home healthcare, transportation, public safety, pest management and professional field service organizations.
The printer's unique Freedom Architecture™ ensures across-the-board software compatibility, resulting in instantaneous interoperability with smartphones, tablets and PCs built on iOS®, Android™, Windows® and Windows Mobile® operating systems. The new printer series features models which are out-of-the-box ready to print, without the need for additional software development or OS drivers.
Strategic advancements including support for Apple AirPrint® wireless technology on the PJ-773 model and the Bluetooth PJ-763MFi model enable users to seamlessly print from iPhone, iPad and iPod touch and are expected to appeal to a broader global customer base across a range of even more industries and applications.
David Crist, President of Brother Mobile Solutions, explains: "This product series represents a huge step forward in smart mobile technologies and is yet another 'first-to-market' innovation for Brother. Mobile workers and mobile enterprises, regardless of size and industry, are sure to appreciate the PocketJet 7's new features, versatility, and unprecedented simplicity of use."
Ravi Panjwani, Vice President of Marketing and Product Management for Brother Mobile Solutions, adds: "By combining smart design with in-depth knowledge of today's evolving mobile workforce, we have eliminated the last existing obstacles of mobile platform compatibility and connectivity. Now, with AirPrint®, Bluetooth®, Mopria™ and Windows® 10 compatibility in various models*, and our innovative Freedom Architecture™, mobile professionals can print from any iPhone, iPad and iPod touch, smartphone, tablet or PC, and in just about any physical configuration that a customer's work environment requires – mounted in a vehicle, transportable to a jobsite, carried in a case, or simply stowed in a backpack. Plus, there are no ink cartridges, ribbons or toners to deal with. In short, with the PocketJet 7, users are now free to print, anytime and anywhere."
Available in a variety of models and configurations, the new PocketJet series maintains its place as the smallest, most compact, technologically advanced full-page mobile thermal printer on the market today. Major new advances in printing performance include printing speeds of up to 8 pages per minute, longer battery life, and broader wireless communication capabilities.
Smart roll case, plus customized kits for specialized applications
Introduced with the new PocketJet series is a specially designed carry and mount case, available separately. Smartly engineered, this rugged roll case provides IP54 rated construction for 4-ft drop protection, with anti-curl mechanism to produce absolutely flat documents with legible, fade-resistant printing from the roll of thermal paper stored within. The compact case and printer can be vehicle mounted, if desired, or can be easily stowed and carried within a briefcase, backpack or work kit.
Because PocketJet 7 will serve a broader range of mobile professionals, Brother has designed a series of workforce kits in which the printer, accessories and media are bundled to fit the most common mobile printer use applications.
The four kits offered will minimize decisions for new mobile professionals and provide enhanced options for field workforces wishing to upgrade their mobile printing.
Vehicle Kit for vehicle and fleet operators desiring vehicle-mounted and vehicle-powered mobile printers
Workforce Kit a smart, light and compact kit, designed for day-to-day use by the typical mobile professional or field workforce
Developer's Kit for application or software developers requiring more than the basic essentials as they refine their designs
Basic Kit the essential starter package for the mobile professional who prints from a laptop or PC
Custom kits may also be developed upon special customer request.