Home Healthcare Technology – Meeting Patient Needs
Time to read 2 minutes
Just over a year ago, I wrote about how mobile technology was helping home healthcare providers improve operational efficiencies and boost clinician productivity. I was especially excited to share how advances in mobile printing technology were making a dramatic difference for busy clinicians who seem to be always on the move. But for the moment, let's pause and turn our attention to an extremely important stakeholder – the patient.
As home healthcare providers are using more technology in their businesses, they are also striving to deliver higher quality patient care by better meeting key patient needs. An important focus for every home health agency is doing whatever they can to make things as easy as possible so that clinicians can focus more time, energy, and attention on the patient.
Keeping the focus on patient care
Given this push toward a patient-centric focus, mobile printers have become a must-have for many home health clinicians' field toolkits, and here are the reasons why:
Meaningful communication. The ability to immediately print medication lists, caregiver instructions, educational materials, and more to leave behind in the patient's home makes it easier to keep patients, their families, and caregivers well informed, especially in unfamiliar or stressful situations. Having this information immediately at hand plays a critical role in helping patients and non-professionals to take more directed and meaningful responsibility for patient care, to use medications safely and effectively, and to keep patients recovering in their home rather than run the risk of readmission to the hospital.
Better patient safety. CMS now requires most home health providers to provide written information to the patient and the caregiver covering scheduled visits, medication instructions, treatment plans, and other patient care guidance. The ability to quickly print full-page, updated instructions from any mobile device during a home visit ensures that clear care guidance is readily available and drives better care outcomes. The printed documents are accessible for multiple members of a patient's care team whenever they visit, enabling seamless handoffs and preventing problematic gaps in team care.
Improved patient experience. Making communication and compliance easier for clinicians frees them up to focus on patient care for the limited periods of time that they are in the home rather than being distracted by time-consuming (but many times, required) administrative tasks. This inevitably results in increasing patient and family satisfaction, and may even support higher star ratings for the home health provider.
Brother Mobile Solutions' PocketJet series of thermal mobile printers are small and lightweight enough for on-the-go clinicians to carry around all day in a backpack or a purse. With their long battery life and the integration of AirPrint®, MFi, Mopria™, and other advanced features, home health professionals can reliably and seamlessly print everything they need to support high-quality care and put their focus back where they want it to be: on the patient.
From both the clinician and patient perspective, mobile printers deliver a clear win-win solution – helping empower home health professionals and meet patient needs.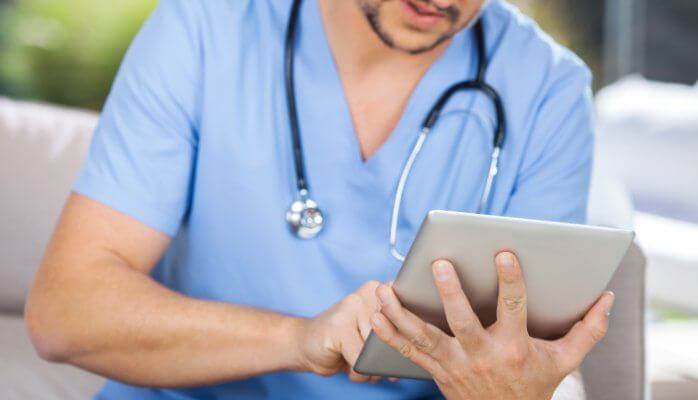 Top Home Healthcare Applications
Use the PocketJet to print:
Detailed medication lists
Drug interaction data
Patient safety and care instructions
Plans of care
References for family and auxiliary caretakers
Medical test results
Transferred patient medical records