3 Ways to Stay Ahead of Warehouse Labor Shortages
Time to read 5 minutes
Warehouse labor shortages are here to stay. Here are 3 ways your warehouse can stay ahead.
Staying ahead of labor shortages is one of the most pressing concerns for companies in the warehousing and manufacturing sector, with 77%1 of manufacturers reporting that finding and keeping talent remains a major challenge.
Jobs are open and hiring incentives abound, so where have all the workers gone.
What's driving the warehouse labor shortage?
Experienced talent is aging out

Baby boomers are reaching retirement age, and they're taking years of industry knowledge and skills could be leveraged to mentor and inspire the next generation of talent with them. Their departure also highlights the importance of adopting simple, user-friendly warehouse technology that lets new staff hit the ground running.

Dependable talent is spread too thin

As hiring and retention numbers stagnate, warehouse managers and staff are pressured to solve warehouse challenges with fewer and fewer people on staff. It's a difficult storm to weather under the best of circumstances, and burn-out tends to be highest for sectors like warehousing, where the day-to-day work is physically demanding. Investing in warehouse technology ultimately shows that you're invested in the experience of your workers, which can positively impact your retention rates.

New talent is harder to attract

More than any generation, the new cohort of Gen-Z and Millenial workers are far more selective about where they invest their time and talents. Businesses will need to adopt a different approach to warehouse recruiting to tap into this talent pool.
How can you improve your warehouse recruitment and retention rates in 2023?
Adopting tools that simplify and streamline your workers' day-to-day demonstrates that you understand and value their hard work, and you're working to lighten their load. This is especially important in the warehouse setting, where the shifts are long and the work is physically demanding. And if your warehouse gains a great reputation for a great worker experience, word will spread. Conversely, workers will be quick to share if your job led them to burnout or exhaustion.
Combat burnout with warehouse automation
Whether you're trying to appeal to younger, tech-savvy recruits or making your veteran workers workload a little lighter, there are a few ways warehousing automation can level-up your operations.
Swapping out pen and paper tracking methods for fast, simple, automated warehousing solutions creates better workflows and minimizes frustrating human errors, particularly for repetitive data-entry tasks.
The availability of modern, time-saving digital tools is an important consideration for warehouse recruiting. Millennials and Gen-Z generally have a low tolerance for repetitive manual tasks.
Freeing up warehouse associates from "busy work" gives them more space in the day for high-value tasks. It also creates more opportunities for them to upskill and grow, which can be a real boon to attracting new talent.2
Having an automated warehousing system in place for tracking and moving inventory facilitates fast, effective communication across the warehouse floor so associates at all levels feel "in the loop".
Equip your material handlers with time-saving mobile warehouse technology
Lightening your workers' physical and mental workload doesn't necessarily require investing in expensive robotic solutions or complex software. And you don't have to phase humans out of the warehouse, either. By giving your workforce simple tools that let them work on the go, you're laying the foundation for lean warehousing practices that protect your workers and your bottom line.
Cloud-based software and mobile tablets are prime examples of warehouse technology that benefits your entire operation. Associates are able to move inventory more strategically, you gain greater visibility into daily operations, and customers benefit from better, faster shipping and receiving processes.
Mobile labeling and barcode solutions allow workers to optimize their movements and work where they need to. Reducing trips back and forth between fixed workstations is a small step that can significantly reduce physical exhaustion over the course of a shift.
Forklift mounted printers are a prime example of how you can move in the direction of warehouse automation without taking humans out of the equation. Forklift operators have everything they need at their fingertips, which means fewer trips, fewer safety risks, and streamlined traffic flows.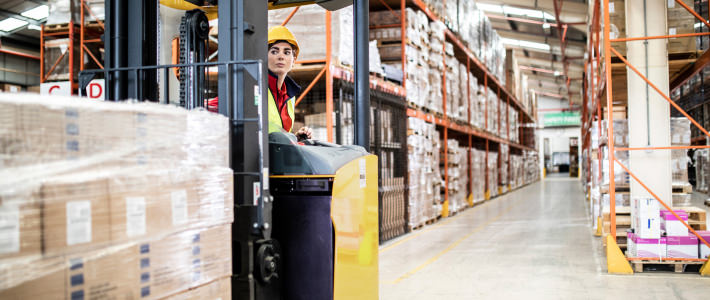 Cultivate a safe working environment
A recent Gallup poll3 revealed that the number one concern for millennials and Gen-Z is that their prospective employers care about their wellbeing. But cultivating a safe workspace isn't just about eliminating hazard risks; it's about creating workflows that make the rigors of warehouse more manageable and appealing.
Deploying a workforce management software that integrates with Warehouse Management System (WMS) programs can give your warehouse managers crucial data on staffing and workflows. The more you understand what's happening on the floor in real-time, the better you can prepare for staff shortages.
Workers on the floor often lack the bird's eye perspective on how inventory is moving throughout the warehouse. These little blind spots can lead to big inefficiencies and greater safety risks. Leveraging data from your WMS can help you create safer traffic and staffing flows that prevent bottlenecks and forklift-related accidents.
Keeping your hazardous materials marked clearly with durable, OSHA-compliant safety signage is essential for keeping your diverse workforce on the same page. The more your staff knows about what they're handling, the better they can assess risk and make better decision about how best to move hazardous products.
So, where do you start?
When considering warehouse technology that can help your workers do their jobs with excellence, look for tools that optimize the equipment and talent you know you can depend on. You'll want to search for a lineup up with these features:
Future-proof warehouse recruiting begins with small, simple changes.
The challenge for 2023 and beyond isn't just outmaneuvering staff shortages. It's adjusting warehousing recruiting practices to attract a new generation of workers and keep them. It's a daunting task, but it's also an opportunity to start exploring automated warehousing solutions that can move your business in powerful new directions. The critical thing to remember is that employees who feel valued add value. Start by giving them the tools they need to do their best work.
Interested in seeing what smart, simple mobile technology can do for your warehouse? Let one of our Brother experts take a look at your workflow. They can recommend the best solutions for your needs and budget, and you can test this future-proof tech with a digital demo or by trying a printer, for free.