Keeping Your Public Safety Officers "On-the-Go-Ready?"
Time to read 2 minutes
New Compact, Durable RuggedJet Go Printer Series Helps Meet the Growing Demands of Public Safety Officers
As states and cities across the country shift to a new normal, many public safety agencies face an increase in responsibilities and duties. What has not changed is that these same agencies are still responsible for previous tasks including enforcing parking regulations, issuing eCitations or accident investigation. Now more than ever before, officers need portable and reliable mobile printing solutions that can reduce traffic stop duration, improve accuracy & efficiency and boost revenue by eliminating illegible handwriting and error-prone manual data entry.
To aid public safety officers, we've introduced the RuggedJet Go Series of mobile receipt printers. This new line of compact and rugged printers boosts the point-of-service experience with affordable and dependable functionalities that help public safety officers issue tickets and violations quickly and safely.
A Key Component of Ticketing Systems
The best mobile printers pack robust features and functionality into a compact, ergonomic package. The printers need to fit easily into a vehicle, motorcycle, or bicycle and be lightweight enough for officers to carry on a belt or shoulder strap for extended periods. The newest editions to the popular RuggedJet series of thermal printers, the RuggedJet Go models answer the call! They are highly compact and connect seamlessly to almost any device, enabling efficient and affordable printing right when tickets are issued. The new 2-inch and 3-inch printers are small enough to carry in a pocket or hook to a belt clip and offer both high performance and affordability to meet the demands of any public safety officers.
Time is Money
When it comes to enforcing parking regulations, an officer's time (and the ability to quickly produce clear, readable tickets) can mean additional revenue for your agency. Add a new level of productivity and reliability to your parking enforcement process. Compact, fast, on-the-go ready receipt printers make printing tickets on the move as simple as grab, print and go. The new RuggedJet Go Series includes the RJ-2035B/2055WB and RJ-3035B/3055WB models that deliver MFi, Bluetooth® and Wi-Fi® connectivity options to support almost any printing application where needed and on-the-go.
Key features on the new RuggedJet Go Series include top performance from the latest lithium-ion battery that can last an entire shift. In addition, direct thermal printing technology uses fewer moving parts than other printing technologies which boosts reliability.
Sturdy and Ready to Go Anywhere
RuggedJet Go printers are constructed to withstand the daily bump and bruises of the public safety environment, backed by a two-year premier comprehensive limited warranty. They are also compatible with most devices and software platforms for easy integration and certification with parking enforcement platforms. For always on-the-go public safety officers, the printers can withstand operational drops of 5.9 ft. without the IP54 protective case, and 8.5 ft. with the IP54 protective case.
Affordable and Dependable
The new RJ Go printers provide incredible value and performance readiness. Everything is included in the box to get right to work, including the battery, belt clip and power supply for charging.
Brother also ensures the technology investment is protected with one of the industry's most comprehensive out of the box warranty and extended warranty programs. The series comes standard with an industry leading two-year Premier limited warranty with optional and affordable annual limited warranty extensions for up to five years.
Public safety professionals require fast, reliable mobile printing solutions that keep them focused on the job, not the technology. At Brother, we engineer tough, portable and extremely reliable mobile printing solutions that handle the wide variety of citations, tickets, reports and even paper labels you need—quickly and easily. With the launch of the new RuggedJet Go series, we are delivering a solution specifically designed to help meet the demands of mobile printing for today's growing number of "on-the-go" businesses.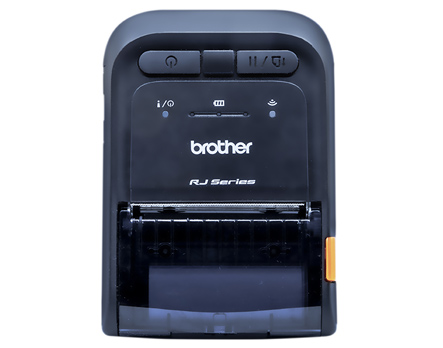 RuggedJet 2-inch
GO Series
RuggedJet 3-inch
GO Series