Warehouse Operation Boosts Productivity with Scan & Reprint Labeling
Time to read 2 minutes
Using on-demand QuickDeploy Mobile Labeling Kits from Brother
For busy warehouse operations, accurate labeling is essential for maximizing productivity, lowering costs, and avoiding interruptions in the workflow and shipment cycles. So, when a warehouse operation supporting 100 retail stores across the county was experiencing inefficiencies due to labeling problems, it was clear that a new solution was needed.
Initially, store shipments were generally created by the pallet – with many orders requiring multiple pallets or even partial pallets. The company's WMS system would produce a pallet label with a corresponding order number to be placed on the box on the top right corner of the pallet. However, the system could only create one pallet label. That meant orders of more than one pallet were left without any identifying label.
Furthermore, with only one available label per pallet, it was important that pallets were stacked "label side facing," which was not always the most efficient way for the warehouse operation to stack and store pallets. As pallets were lined up for shipment at the end of each day, it became difficult for workers to determine the destination of the unmarked pallets, or whether they were part of a multiple-pallet order.
A just-in-time solution
The Brother RJ3150 QuickDeploy Labeling Kit, a stand-alone "scan and reprint" labeling solution, proved to be the answer. This custom kit contained virtually everything needed to speed and simplify pallet labeling, including a state-of-the-art mobile thermal printer and the following unique features:
A linear or 2D imaging scanner attached to the RJ3150 USB host port
An internal application that takes scanner input and reprints an exact replica of the original label
By simply scanning the original label, this RJ3150 solution allows warehouse personnel to recreate and print as many labels as necessary. Pallets now have labels placed on all four sides, and orders of two or more pallets all receive the proper identification. Best of all, this "all-in-one" printer/scanner unit does not require any interface with the WMS system and requires no wireless connectivity to the server.
Undeniable results
The RJ3150 QuickDeploy Mobile Labeling Kit delivered all the anticipated benefits (and more) to the warehouse operation, including:
Proper barcoded labels identifying the work order number on all pallets upon arrival at the shipping dock
Quick and accurate consolidation of orders and a faster truck-loading process
Elimination of missed shipments and the cost of remedial shipments
Less congestion at the loading dock with properly identified pallets
More efficient stacking and storing of pallets, resulting in a safer, less cluttered working environment and fewer injuries reported in the shipping area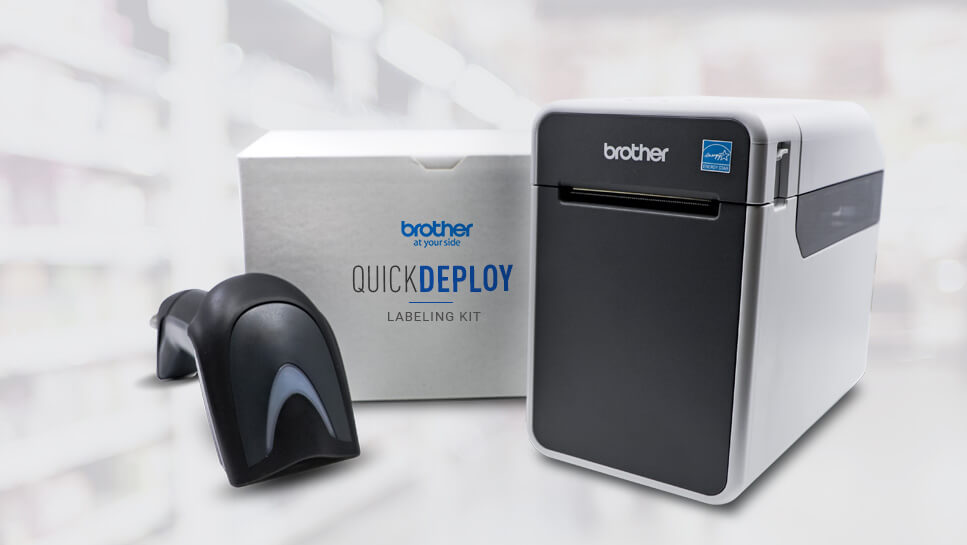 Brother QuickDeploy Mobile Labeling Kits
For the easy approach to on-demand labeling, think inside the box.
With these versatile, stand-alone solutions, retail and convenience stores, food service operations, and warehouses get virtually everything they need to print labels, tags, and barcode labels in as little as 24 hours – all at a fraction of the cost of traditional mobile printing options. Perfect for budget-conscious retailers and rapid prototyping projects, QuickDeploy Mobile Labeling Kits require no integration, no Wi-Fi® connectivity, and no recurring fees.