Why Automated Proof-of-Delivery is Essential for Your Transportation Operation
Time to read 4 minutes
From the very first introduction to a company all the way down to delivery, customers expect nothing short of a stellar customer experience. And the B2B space is no different, with your customers expecting consistent shipping and delivery services to rival those they receive from e-commerce retailers.
Because of this, the delivery experience is one of the most important touchpoints along your customer's journey. In fact, transportation and logistics may be the only opportunity for your company to directly interact with your customers face-to-face, so making that experience a positive one is crucial. And as the last touchpoint, delivery also offers the opportunity to leave your customers with a lasting impression.
The success or failure of the delivery experience ultimately falls on your delivery drivers. They're already responsible for ensuring undamaged, accurate, and on-time delivery. On top of this, they must manage slow, error-prone manual processes or complicated technology to provide the accurate proof-of-delivery receipts that your customers expect to receive after each transaction. In order to deliver positive experiences, you need to power your drivers with the right technology.
And just like your customers, your drivers expect a positive delivery experience. Meeting the needs of your drivers is critical to retention and acquisition in a high-turnover industry that's already prone to worker shortages. Equipping your drivers with proof-of-delivery technology that is automated, easy to use, and consistent at every stop is mission critical.
Major benefits of printed proof-of-delivery for customers and drivers alike:
Automation of manual driver tasks boosts productivity
A manual proof-of-delivery process drains time and money. Automation creates efficiencies for drivers who can directly print out proof-of-delivery without wasting time handwriting anything. Mobile printers can also go anywhere with your driver, so they can automate processes regardless of the conditions at a delivery site, which is critical for industrial applications and harsh environments. And features like fast print speeds, long battery life, and one-touch pairing further increases your driver's productivity—which is key to keeping on track with customer ETAs.
Fewer mistakes for a better bottom line
Delivering an accurate, readable receipt for every transaction can deliver real gains in customer satisfaction.
Handwriting all of a delivery's details from an original source onto a piece of paper for proof-of-delivery is a fast track to making otherwise avoidable mistakes. Besides frustrating customers, these kinds of errors can be costly for companies who may lack verifiable proof documentation. Those mistakes are also harder to correct if drivers can't print an accurate and up-to-date customer copy at the time of delivery. Using a smart transportation solution to print proof-of-delivery tickets on-site helps ensure that accurate, readable information is on every document. Additionally, information on automated receipts can be changed without adding handwritten marks to the paperwork, ensuring accuracy across all touchpoints.
Professional printouts leave a positive impression
Hand-filled form receipts lack personalization and indicate that your company isn't investing in modern, customer-facing technology. Handing your customers an easy-to-read, high-quality printout with all the relevant details of their order leaves them feeling confident in their order and your company.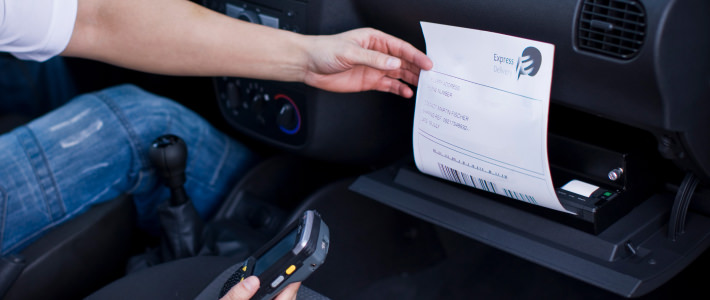 Choosing the right proof-of-delivery technology
Opt for simple to use, easy to maintain solutions
No one wants to replace one cumbersome task with another. When selecting a printer, it's important to look for drop-in ready, easy to learn hardware. Choose printers that are created with transportation needs in mind. For instance, use printers that are designed to make management and maintenance tasks like refilling paper simple to complete right in the cab.
With Brother, operational managers can also set up custom web portals to make the process of ordering replacement paper and parts simple and fuss-free.
Choose a printer that delivers versatility and portability.
Mobile printers like the RuggedJet 4-inch printer or the PocketJet full-page printer provide professional, up-to-date and accurate receipts that complete a stellar customer experience. And leverage them for other common transportation documents like:
These compact printers offer easy connectivity through cable, options for Wi-Fi® and Bluetooth®, fast print speeds, and industry-leading support. Plus they're rugged and durable to withstand any in-cab and in-store environment.
Printed proof-of-delivery elevates the delivery experience, right at the moment in the customer journey that matters most. Learn more about how the Brother Mobile Solutions line of printers can help you address transportation challenges like proof-of-delivery.