How to Choose Healthcare Labeling Solutions that Stand Up to Extra Cleaning & Improve Care
Time to read 3 minutes
In the wake of dramatic new global health challenges, the durability of all types of healthcare labels has come under a new microscope. Public health organizations have expressed concerns about possible transmission of the COVID-19 via contaminated surfaces and contact with various materials. In response, healthcare organizations have elevated the frequency and duration of cleaning and sanitizing precautions to help stop the spread of the virus.
The Importance of Labels in Healthcare
Healthcare labels are used in many areas across clinical care delivery where they help improve patient safety, as well as in many different operational and administrative areas. For non-care operational settings, labels are often used on cabinets, office furniture, computers, and other technology equipment, as well as in administrative settings, storerooms, and shipping and warehouse areas. Labels are used to track assets such as medical devices or other types of equipment used in treatment areas. And they can also appear on signage throughout both clinical and operational settings.
Elevated Focus on Cleaning & Disinfection
Cleaning and disinfecting has always been a high priority across the healthcare landscape.

Yet, in the wake of the current pandemic situation, devices and many other types of equipment are now being sanitized and wiped down more frequently with amplified cleaning solutions. For that reason, the additional focus should be given to the types of labels and label tape being applied in the wide range of healthcare applications. It's paramount for healthcare providers to deploy labels that resist wear-down, scratch-off, or fading with cleaning. If you're wondering what to look for in your healthcare labeling solution, here are 5 key considerations to keep in mind:
Small Footprint
Look for a label printer that is compact and has a small footprint, as space is limited in many healthcare settings.
Label Type
Seek out a label printer that can seamlessly print labels that work on a variety of surfaces or applications – medical equipment labels, supply room or storeroom shelf labels, labels for the administration area, etc.
Label Lamination
Since many healthcare labels are used in harsh settings, it's important to have laminate applied directly to the top of the labels to prevent rubbing off over time.
UV/Chemical Abrasion
Many healthcare environments call for labels options that are resistant to UV rays and chemical abrasion label options for use with harsh cleaners or chemicals, so look for labels that can stand up to these conditions.
Label Tape Options
Seek out a printer that can accommodate a continuous label tape as an easy-to-drop-in cartridge.
Healthcare Label Printers Designed to Enhance Safety in Care Delivery & Operations
PT-P900W – Industrial High-Resolution Laminate Label Printer with Wi-Fi®
When you need healthcare labels that last, even in harsh environments, compact P-touch labeling tools print high-resolution, durable laminated labels that ensure proper identification, tracking, and safety in the toughest clinical settings. The Brother PT-P900W features an advanced auto-cutter and easy-peel feature. Create one or many customized, durable labels in a variety of combinations and widths for any healthcare need. This high-speed label printer lets you design labels on your PC, Mac, tablet, or smartphone then print using USB or Wi-Fi® connectivity.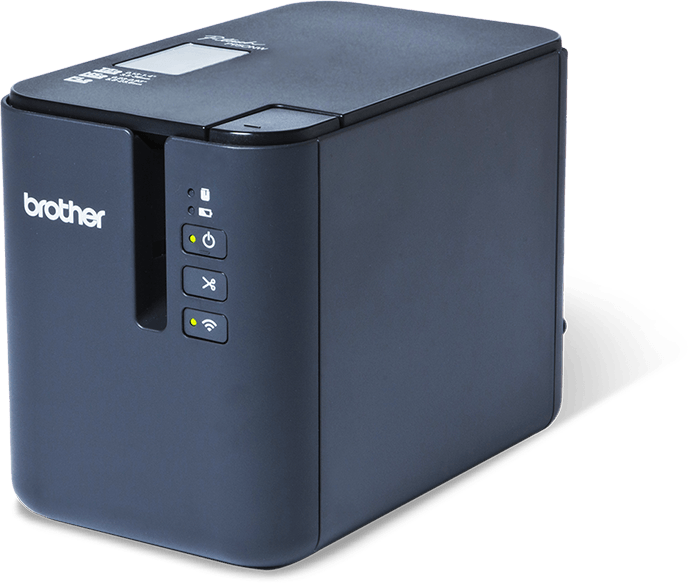 Feature snapshot:
Durable labels up to 36mm wide
High-speed and high-resolution (360dpi) printing
Integrated Wi-Fi® to print labels from several devices at once, including tablets and smartphones
Built-in auto cutter with easy-peel function
Li-ion rechargeable battery and host of accessories
Comes complete with software, design tools, and accessories
Drop-in tape cartridge design helps make media replacement simple and trouble-free
Includes PT-Editor 5 professional barcode and label design/print software application
If you'd like to learn more about how today's advanced labeling tools that can print labels that can stand up to a variety of conditions. See how these desktop and barcode label printers are out-of-the-box ready to create tough, laminated label