How Mobile Printer Technology is Helping Healthcare Organizations with the Demand for Mobile Testing and Vaccination Centers
Time to read 3 minutes
The global pandemic brought many challenges to public health, including the need to establish mass COVID-19 testing sites and define vaccine deployment plans in a very short timeframe. Setting up sites for both testing and the rapid deployment of mobile vaccines is now a top public health priority in the near term and beyond. The immediate demand for 'mobile' public health solutions for COVID-19 testing and vaccine distribution requires quick decisions involving technology, processes, and workflows to get mobile sites up and running. While mobile technologies are not new, unique circumstances, including fragmented decision-making authority has increased the challenges. In addition, as decisions get made and sites materialize, considerations such as patient and clinician safety, the accuracy of testing, tracking patient information, proof of cold chain documents, and integration with core healthcare or public health systems are critical. Mobile printing and labeling play a key role in this rapid deployment process.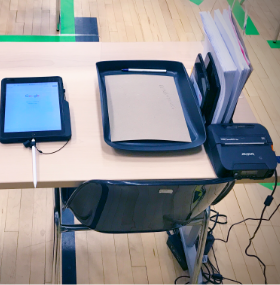 Brother Mobile Printing: Healthcare Use Cases
If the rise of the pandemic proved anything, it's that unexpected challenges call for unique, quickly deployable solutions. The need for technological solutions that were traditionally inside of a hospital or lab might not easily scale or set-up for 'outside the four walls'. North America has never faced testing and vaccine rollouts on such a massive scale. Thus, the ability to reliably print labels and receipts on-demand in real-time is essential to supporting many types of pandemic healthcare measures. Here's a closer look at the key role Brother mobile printers played in the fight against COVID-19.
Quick Deployable Vaccination Receipts
To set-up its COVID-19 vaccine rollout, Brother recently worked with an agency in Canada to provide a receipt printing solution for vaccine recipients. The agency is deploying hundreds of vaccinations across the Province, and must issue a receipt indicating which dosage and the date the vaccine was received.
They sought a printer that could be easily deployed and print via Airprint® with their Apple® iPads. Brother's RuggedJet 4 printed a 4×6 receipt to include various patient details in both English and French. Details include patient name, location, type of vaccine administered, and the date of the second dosage. The printers can withstand hundreds of prints per day, are easy to set-up, and offer mobile printing flexibility for the staff. Plus the agency quickly received demo units to test to ensure the solution met their unique printing needs. They have successfully deployed hundreds of RuggedJet 4s as they continue to set up vaccination clinics in convention centers and arenas across the region.
Test Tube Labels at COVID-19 Testing Sites
To support testing at a leading lab provider's remote and pop-up testing sites, Brother's RuggedJet 2 mobile printers were paired with their software and a mobile device. The ability to print 2-inch test tube labels car side allowed the testing sites to increase testing accuracy and improve workflows. The Brother printing and labeling solutions can aid in having a larger number of tests completed quickly and help increase testing throughput. Also, additional efficiencies were realized by utilizing Brother premium top-coated paper.
See how Brother's labeling solutions boost accuracy and efficiency for mobile COVID-19 tests.
---
Features that made Brother Mobile Printers the popular choice:
Mobility
Since many receipt printers on the market require an outlet to run, they are not effective in mobile situations. To overcome this challenge, the agency chose Brother's Rugged Jet mobile printers, which features industry-leading battery life, making them excellent for mobile situations. Workers shouldn't have to share printers or walk back and forth to desktop printers. They can wear or carry printers using shoulder straps or belt clips allowing them the ability to easily move between stations.
Ruggedized for Outdoor Use
Brother mobile printers are engineered for the rigors of all types of mobile operations –with service and support that keeps them 'round the clock ready.' This ensures vaccine receipt printing is quick and accurate. Brother mobile printers are built ruggedly constructed to seamlessly operate 12-14 hours a day, so they last longer and require fewer replacements.
Easy Integration & Deployment
Easy to connect and simple to use, Brother wireless mobile printers ditch the messy inks and toners—delivering fast, reliable printing through advanced features. Brother mobile printers allow for quick deployment with easy integration into a majority of healthcare or lab testing hardware and software. Printers are compatible with iOS® and Android™ devices and connect via Bluetooth® and Wi-Fi® compatible.
Label Quality
Genuine Brother labels, tags, and wristbands, in various materials, widths, and adhesives, can meet any need. The easy-to-use drop-in rolls are ultra-convenient and offer customization options with pre-printed company logos or other designs. Also, built with thermal print technology, Brother labels resist smearing or fading.
Looking Ahead
As we move further into 2021, Brother stands ready to support the evolving mobile printing needs during the pandemic and beyond. With testing centers and vaccine distribution locations setting up at fairgrounds, sporting venues, and additional hospitals, there is a strong need for printing and labeling solutions that can be quickly set-up and integrated with existing technology. We don't know what this upcoming year will bring, but we stand ready to continue finding unique mobile printing solutions to problems old and new.